Many times I have recommended original equipment parts as a quality replacement.  While this is still largely applicable, there are times when the original design is inferior.  Fortunately, sometimes the aftermarket comes to the rescue.  The General Motors New Process transfer case is just such an incident.
The New Process transfer case has been installed in millions of Silverado, Sierra, Suburban, Avalanche and Tahoe and other four wheel drive vehicles 
For years we have noticed a serious problem with this four-wheel drive General Motors transfer case.  After several thousand miles a small hole strangely appears in the bottom of the rear transfer case half.
On close examination it almost appears to be porosity in the case.  Closer inspection shows it is a hole, originating from inside the transfer case.
The actual cause is a broken clip that allows the steel pump to rub a hole in the aluminum case.  Once the case is punctured, the lubricant runs out.  Often this goes without notice as the oil is blown around under the vehicle.  The first symptom is often a burned up transfer case, and a hefty repair.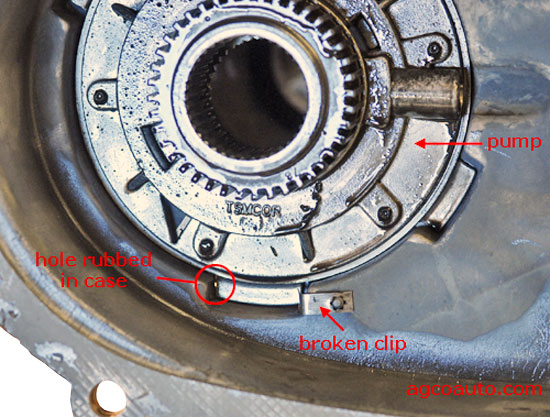 The small brass clip attaches to the aluminum case by pushing onto a small stud
When the clip breaks, the pieces fall into the case and the pump housing begins to rub on the aluminum case.
GM sells a rebuilt case for close to two-thousand dollars and it is put together much the same as the original.  Fortunately there is a much better alternative.  AGCO can solve the problem, often at a price lower than the GM alternative.  Our transmission repair shop repairs four-wheel drive transfer cases with AGCO quality.
These upgraded pieces bolt directly to the pump and replace the flimsy clips.  Instead they use thick nylon ears for support.  The case is then repaired.  After replacing the damaged and worn components the transfer case is ready for service, much better than before.
AGCO, solving problem, offering solutions.
Post or Read Comments (0)