Many owners of GM vehicles have experienced problems with their dash gauges
Speedometers, tachometers, fuel gauges and temperature gauges that are noisy, do not work, stick or read improperly. GM recalled many of their SUV and truck models for this problem. The recall is up to 70,000 miles, though most people will not see symptoms till 80,000 plus.
The cause is substandard stepper motors used in the instrument panel cluster (IPC) on 2003 to 2006 GM vehicles. In 2007 a revised stepper motor was introduced, but millions of vehicles still have the old style.  These old style motors are likely to fail and sticking or non-functioning gauges often result.
A stepper motor uses electromagnets to move a permanent magnet, attached to the gauge needle. Sensors send electrical information to the IPC which uses transistors to activate the electromagnets and move the gauge. These can turn multiple electromagnets on or off an reverse their polarity. By powering different electromagnets, the gauge can be moved to the desired position.
As long as quality components are used, the system works and holds up well. It has been used by many automakers for years. When low quality stepper motors are substituted, failure is simply a matter of time.
While only SUV and trucks were recalled, the same stepper motor is used in many GM cars. These vehicles suffer the same failure, though GM has yet to acknowledge them, or trucks with over 70,000 miles as a problem. This dash is from a Malibu the 75,000 miles. The speedometer is often the first to fail, as it moves the most.  We also see the tachometer, oil pressure gauge, temperature indicator and fuel gauge fail.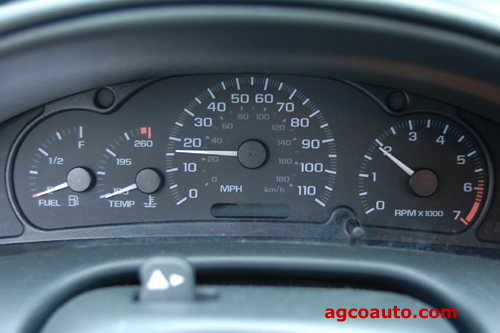 In the past, an expensive re-manufactured dash, from GM was the solution. Not only were they expensive, they require reprogramming and normally an overnight stay in the shop. A used dash from a salvage yard was no better answer. It would likely have the same problem as it contains the same substandard components. Another issue, due to programming differences, a salvage yard part may not work if installed in another vehicle.
Many internet suppliers can now repair many of these malfunctioning dashes for you. They can replace all of the stepper motors with new improved motors and replace the dash panel lights as well. The advantages are:
 much lower cost
 one day service
 no reprogramming required
 you have the exact dash to fit your vehicle
Before returning to the dealership, check to see if your shop can send your instrument panel out for repair.  You may save a bundle.
Post or Read Comments (0)