Not many people would knowingly neglect something that might cost them thousands of dollars. With automatic transmissions there is so much mis-information floating around it is hard to know what to do. Hopefully this short article might shed some light.

There are a number of myths concerning transmission service. These can cost you major dollars. Here are some facts.

Myth: If I have not serviced my transmission for 100,000 miles, it's too late or it might cause it to fail.

Fact: This myth makes as much sense as, "Since I have not brushed my teeth for six-months I should not ever brush them. A proper transmission service can never hurt your transmission and may very well extend the life. Certainly it would have been best to service it sooner. You may also find a problem that service cannot correct. Even then, prompt action can still save a breakdown and lower the cost of the repair.

Myth: Flushing a transmission will clean the filter.

Fact:
Most filter elements are built much like a sock. Fluid enters this transmission filter through the neck and flows out through the fabric. Debris entering such a filter cannot come out and will eventually plug the filter. When the fluid is restricted, the transmission is no longer lubricated. A proper service includes replacing the filter on transmission that have a pan.
Myth: Material in the pan means the transmission is bad.
Fact: A small amount of fine powder-like material is often found in the transmission pan. This is from normal wear and tear and does not indicate a problem. Larger pieces of metal and any signs of water indicate a major problem. The best shops will often dissect the filter to find evidence of a problem.
Myth: Transmission fluid is all the same or this fluid is "better" than the original fluid.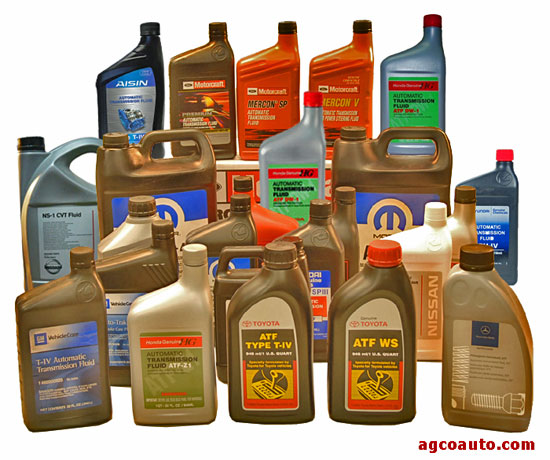 Fact: Manufacturers blend specific fluids to address specific demands of a design. There are several fluids on the market and some shops may use universal of even substandard fluids. Never let anyone substitute the fluid in your transmission. USE ONLY THE OEM RECOMMENDED FLUID.
A proper service involves a test drive, removing a removable pan and inspecting the inside of the transmission. Adjustment of bands, if used and a check of valve body bolt torque is also included. Replacement of the filter and filling with the exact replacement fluid is also part of a proper service.
One way to be certain you get a proper service is to use AGCO. We specialize in proper transmission service, repair and rebuilding. AGCO, it's the place to go!
Post or Read Comments (0)